Tanbo - Tambo Ipe
Details
ITEM EXCLUSIVE to our armory. Ipe, Brazilian Walnut Tanbo / Tambo.
This wood is very hard! It is very good for contact against Wakizashi Shoto or bokken. Tough as nails! Has a fine to medium texture, with the grain varying from straight to irregular and/or interlocked. Ipe is among the most durable lumbers on earth, with exceptional resistance to decay, rot, and insect attack.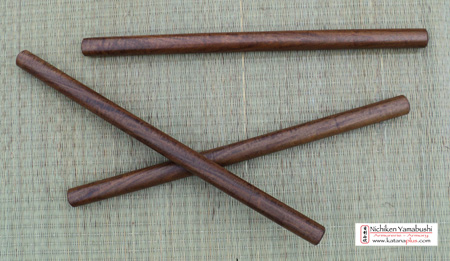 Finally, Ipe is a wood of extremes: extremely dense and durable, as well as extremely difficult to work. Its incredible hardness and strength make it well suited for flooring applications. Some common uses for Ipe include: flooring, decking, exterior lumber, veneer, tool handles, and other turned objects.
Overall a very good wood for Tanbo / Tambo.
Proudly handmade in Quebec.
Specification
Lenght: approx. 18"
Weight: approx. 215 gr. (7,5 oz)
Diameter: 1"
Wood: Ipe
Enregistrer
(4 in stock)

Add to cart