RAPTOR Wakizashi Paul Chen
Details
RAPTOR Wakizashi Paul Chen: Great for cutting!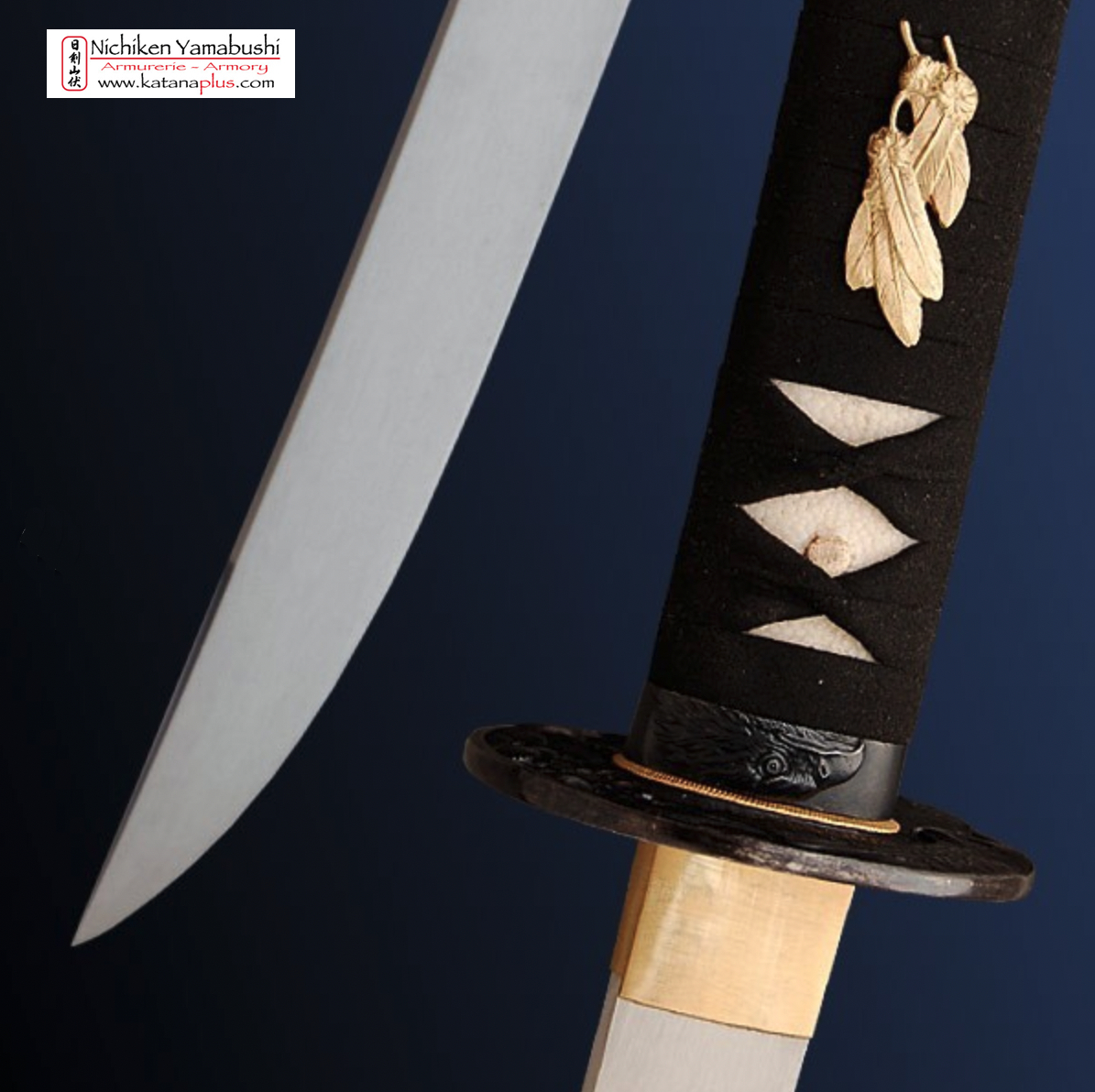 Designed under the auspices of cutting master James Williams the Raptor series has been created for the cutting practitioner who does not necessarily have access to mats but who wishes to practice and perfect his cutting technique.
The blades are forged in Spring Steel 5160 high-carbon steel and specially heat treated to produce very high resilience and greater tolerance of misdirected cuts than a conventional differentially tempered blade.
This steel structure also avoids the need for excessive thickness, allowing the blades to replicate the weight and handling characteristics of Japanese originals. The edge geometry is configured to facilitate the cutting of both soft and semi-hard materials without chipping, allowing the cutter a wide choice of targets.
Each katana in the series features a unique blade style, each with its origins in Japanese swordmaking history, providing the cutting practitioner with choices in both aesthetics and handling characteristics.
Raptor Series Construction Details:
Blades - Forged from Spring Steel 5160 high-carbon steel, marquenched to an edge hardness of 57HRc.
Tangs (Nakago) - Full length, double pegged.
Ferrules (Habaki) - Brass
Handles (Tsuka) - Wood core, genuine rayskin (Same), special non-stretch sueded wrap (Tsuka-ito) for firm grip and wear resistance. Raptor feathers hilt ornaments (Menuki).
Guards (Tsuba) - Traditional blackened iron, Raptor motif.
Fittings (Fuchi/Kashira) - Blackened steel, Raptor motif.
Scabbards (Saya) - Wood, non-fingerprinting textured lacquer finish.
Specifications
Overall: 26 3/4"
Blade Length: 19"
Handle Length: 6 1/2"
Weight: 1lb 8oz


Specs will vary slightly
from piece to piece.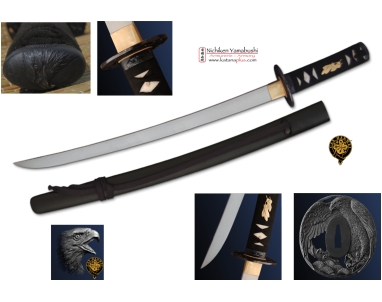 Price list: 589.00 $CAD
20% discount applied
to this item when it will
be added to cart.

437.99$
Our price
(2 in stock)

Add to cart
Brands:
Hanwei - Paul Chen
Paul Chen Hanwei Forges /CAS Iberia We are a dealer of Paul Chen Hanwei CAS Iberio forges. So anything made by them and not found on this web site can be ordered for you
Category